Welcome to Michelle DeGaris Memorial Kindergarten
(Naracoote)
We welcome you and your family to our Kindergarten in Naracoorte and hope that the information provided on our website will help in explaining the services that we as a kindy and the local community offer to families with young children.
Staff at our kindy are available at all time to discuss your needs or ideas so please feel free to contact us.
Our aim at Michelle DeGaris Memorial Kindergarten is to provide quality education and care for the families in our community.
Contact Information
Session Times
Pre-entry:
Pre-entry sessions are for children in the term prior to starting full time kindy. These sessions are by arrangement so please contact the Kindy for further information.
Preschool:
All children have an individualised program that is aimed at extending children's areas of strength, confidence and includes strategies to address their areas that need strengthening. This program becomes a hand held file and is the property of the child/family.
Our Preschool session times are
| | |
| --- | --- |
| Morning Sessions: | 9.00am – 12.00 noon, Mon, Tues, Thurs & Friday |
| Afternoon Sessions: | 1.00pm – 3.30pm, Mon, Tues, Thurs & Friday |
Parent Information
Our Parent information booklet will provided you with very detailed information about the services and program we offer at Michelle DeGaris Memorial Kindergarten.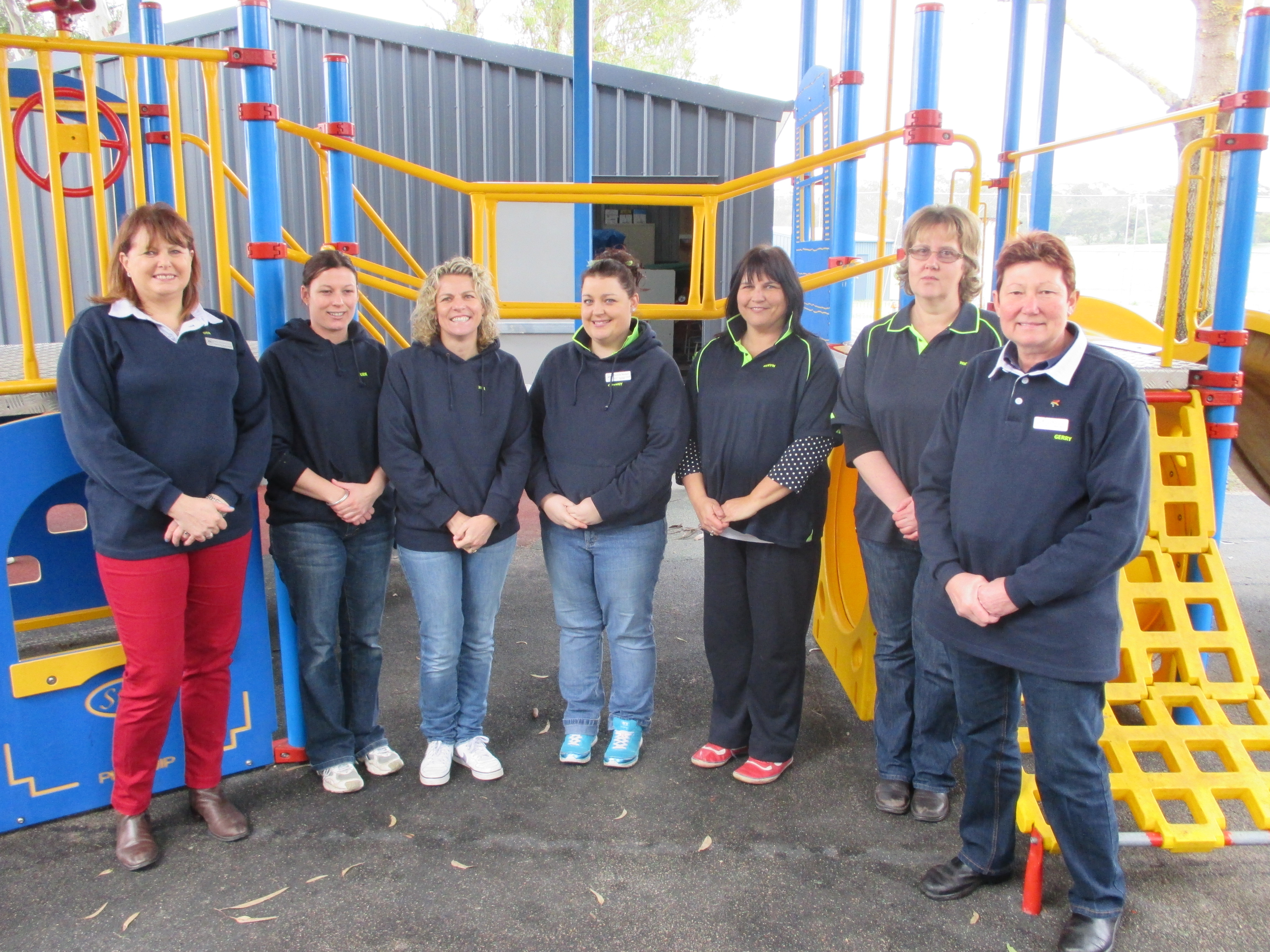 Staff
DIRECTOR: GERALDINE MATHIESON (1.0)
TEACHER: CHANTELLE WECKERT (1.0)
EARLY CHILDHOOD WORKER
UNIVERSAL ACCESS: KERYN PROUD (24 HOURS)
BI-LINGUAL SUPPORT: NIC DUPREE (72 HOURS/ 10 W
OCCASIONAL CARE: JAYNE CASTINE (0.4=15 Hrs)
PRESCHOOL SUPPORT: DEB HENSCHKE (4.0 HOURS)
PRESCHOOL SUPPORT: SUSIE SUTHERLAND (11.24 HOURS)
Playgroup Information
Our Playgroup is held throughout the week at the Kindy during the normal running of pre-school sessions. The full range of activities and resources are available to the Playgroups.
Playgroup is held on Monday, Tuesday, Thursday and Friday from 10.00am to 11.30am and 1.30pm to 3.00pm.
More detailed information about Playgroup can be found in our Parent Information Booklet.
Occasional Care
Funded Occasional Care is held on Tuesday, Thursday and Friday from 9.00am to 12 noon and Thursday afternoons from 1.00pm to 3.30pm.
Unfunded sessions are available please contact the kindy for more information.
Occasional Care is for children from 2 to 5 years of age and the cost ranges from $1.50 to $5.00 for a three hour session.
Occasional Care Poster(56 KB, Adobe PDF)
Contact our staff for bookings and further details.
Planning & Reporting
The Context Statement provides detailed information about our preschool.
Feedback and Complaints
Let us know if you have feedback or a complaint, or if you want to give us a compliment. Feedback is valuable as it helps us shape our services to meet your needs.
Our parent guide to raising a concern or complaint (PDF 116KB)